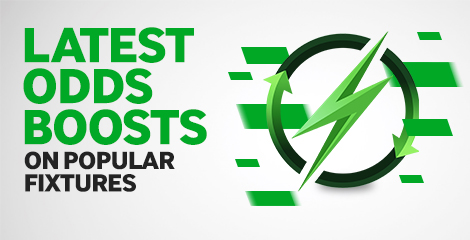 We're always looking for new ways to bring you the best odds on all of your favourite sports.
Whether it's football, basketball, boxing, or any other thrilling sport, Betway Boosts guarantee bigger odds on the biggest clashes.

How it works

Betway Boosts is our latest addition to the Money Back Boost and Win Boost offering and brings you a curated list of hand-picked games with boosted odds.

Our lists are updated constantly to ensure that you always get the best odds possible.

To get access to the latest Betway Boosts, look for the lightning bolt icon next to boosted fixtures.


Terms and Conditions

This promotion is open to all new and existing Betway customers.
A valid Betway account is required to participate in this promotion.
Betway Boosts will be settled based on the result at the end of regulation, including injury time. Unless otherwise stated, extra time, penalties etc. do not count for settlement purposes.
If one selection included in a Betway Boost is a non-runner/does not take place, all bets on the boost will be void, unless the result is already known.
Betway Boosts are offered for promotional purposes only. The prices offered can be considerably greater than those offered on the same outcomes elsewhere in the sportsbook. In order to ensure as many customers as possible can benefit from these promotions, the maximum permitted stake amount may be significantly smaller compared to the regular sportsbook offering.
Betway Boosts prices are subject to change.
Relevant sports betting rules apply to Betway Boosts, unless stated otherwise.
If any horse quoted in a horse racing Betway Boost with multiple runners is a non-runner, then the whole bet is void.
This promotion may be altered or cancelled according to Betway´s criteria at any time and without prior notice.
Betway reserves the right to exclude players from the promotional campaign.
General Terms & Conditions and Promotional Rules apply